Feb 8 2013
Tiny Reviews edition!
Featured album:  Caroline Davis Quartet Live, Work & Play.
Plus:  Sonic Liberation Front Jetway Confidential, Zoidberg Trio Gargoyle, Han Bennink Trio Bennink & Co, & Hardcoretet Do It Live.
*****
Caroline Davis Quartet – Live, Work & Play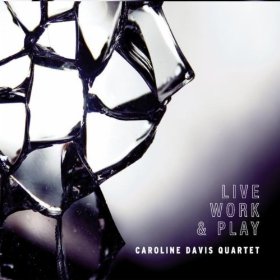 Saxophonist Caroline Davis's debut album is clearly informed by the soulful blues of her current Chicago digs, but Chicago is also a stronghold for an experimental jazz set, and Live, Work & Play has moments that recall's the unconventional angles of music by artists like James Falzone and Frank Rosaly.  It makes for a splendid clash between seemingly opposite poles, except that Davis finds the commonalities and gives it her own voice.  End result is music that's overtly warm, yet oddball at heart.
Your album personnel:  Caroline Davis (alto sax), Mike Allemana (guitar), Matt Ferguson (bass), and Jeremy Cunningham (drums).
Some tunes that really stand out for me:  "Bloodcount" is a smokey ballad interspersed with sudden quavering bursts of guitar and sax.  "Old Rims" has a sighing ambient presence that is the synthesis of a lazy afternoon and nowhere to go.  "Dionysus" begins with a fluttering lightness (reminiscent of Pete Robbins' style on sax) that has the quartet developing music lines like strands of DNA, but then suddenly reach a plateau that sets them off as a singular force shooting straight ahead, gaining speed and volume with successive clicks.  But this entire album is a stand-out release of 2012; not an album track I don't find something about it to enjoy.
Released on the Ears & Eyes Records label.
Jazz from the Chicago scene.
Stream the album at the artist's bandcamp site.
Available at eMusic.  Available at Amazon: CD
| MP3
Other Albums of Interest:
Sonic Liberation Front – Jetway Confidential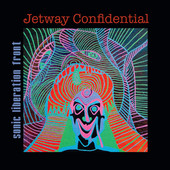 The Sonic Liberation Front creates a potent mix of trippy Afro-Cuban rhythms, electronic effects infusions, avant-garde missives, and jazz grooves.  Inspired by the music of Sun Ra, which comes through.  Giving a solid modern voice to music that cries out nostalgically to jazz from late-60s/early-70s a la Sun Ra/Mahavishnu Orchestra/Gato Barbieri.  Fun music that also challenges.
Your album personnel:  Kevin Diehl (drumkit, bata, percussion, loops), Baba Joe Bryant (bata, percussion), Tom Lowery (Afro Brazilian percussion, drumkit), Yinka Moore (bata, percussion, vocals), Veronica MJ (viola), Todd Margasak (cornet), Terry Lawson (tenor saxophone), Elliot Levin (tenor & soprano saxophones, flute), Connor Przybyszewski (trombone), Brent White (trombone), D.Hotep (guitar), and Matt Engle (bass).
Stream the first three album tracks at the artist site.
Released on the High Two label.
Available at eMusic.
Zoidberg Trio – Gargoyle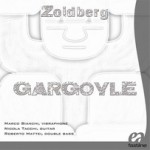 Nifty trio of guitar, vibes, and bass. Quirky modern jazz fusion. Moody at times, but then also performs covers of Bowie's "Life on Mars?" and Ennio Morricone's "Playing Love," so there's that, too. A likable album, and besides, guitar and vibes is always a sublime pairing.
[soundcloud url="http://api.soundcloud.com/tracks/53316205″ params="color=ff6600&auto_play=false&show_comments=false&show_artwork=false" width="60%" height="85″ iframe="true" /]
Your album personnel: Marco Bianchi (vibes), Roberto Mattei (double bass), and Nicola Tacchi (guitar).
Released on the Abeat Records label.
Jazz from the Lecco, Italy scene.
Available at eMusic.
Han Bennink Trio – Bennink & CO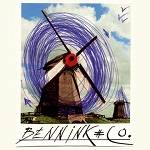 Very cool new release from avant-garde musician Han Bennink.  Refreshingly lyrical, even as the trio pulls out all the stops in complex and textured conversation.  Tracks like "Ganz" and "Kiefer" really sums up how immediate this music is while also accessible… a deep voice with a light bounce and a pronounced playful mood, even as it skronks and howls.  This album should make both avid and casual avant-garde fans happy.
Your album personnel:  Han Bennink (drums), Joachim Badenhorst (saxophones, clarinet), and Simon Toldam (piano).
Released on the ILK Music label.
Jazz from the Amsterdam scene.
Available at eMusic.
Hardcoretet – Do It Live
Very cool quartet album, representing some of the talent coming out of the Seattle scene.  With its generous helpings of rock and soul mixed in with its jazz, Hardcoretet definitely hails from the new school of jazz a la Kneebody or Sean Wayland.  Tuneful like crazy, and they know how to work a groove for all its got.  I'm sure some of you post-rock fans would get into this, too.
Your album personnel:  Art Brown (alto sax), Aaron Otheim (keyboards), Tim Carey (bass), and Tarik Abouzied (drums).
[bandcamp track=2646486519 bgcol=FFFFFF linkcol=4285BB size=short]
Released on the Table & Chairs Music label.
Jazz from the Seattle scene.
Available at eMusic.
*****
The Caroline Davis review is partially original to Bird is the Worm, and portions of the other reviews were originally used in my Jazz Picks weekly article for eMusic, so here's some language protecting their rights to that reprinted material as the one to hire me to write about new jazz arrivals to their site…
"New Arrivals Jazz Picks," reprints courtesy of eMusic.com, Inc.
© 2012  eMusic.com, Inc.
As always, my sincere thanks to eMusic for the gig.  Cheers.